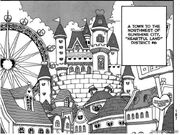 Heartful Land is the birthplace of main character Lavi Heartful. Lavi's father and mother are the prestigious family of this city.
After losing Crem, the Buster Keel Party travel to the next city. While there Lavi is kidnapped by an old man with a carriage. The old man reveals himself to be her family's personal butler and he is here to take her back home.
Lavi meets her parents who want her to stop being an Adventurer. Just then the Zaru brothers, Kikazaru, Iwazaru, and Mizaru attack her house. Lavi's father is hurt when he defends Lavi against Kikazaru and she is overpowered by the brothers. Then Keel and Blue come to aid Lavi and her family against the Zaru brothers, who reveal they are Keel's younger adoptive brothers. The brothers retreat but not before warning Keel that T-Ross is their boss. Lavi's father then reveals he is alright because he used to be an Adventurer.
Lavi's father didn't want Lavi to go on an adventure because he once lost his partners on an adventure. He then realized he should support her and wishes her good luck.
Ad blocker interference detected!
Wikia is a free-to-use site that makes money from advertising. We have a modified experience for viewers using ad blockers

Wikia is not accessible if you've made further modifications. Remove the custom ad blocker rule(s) and the page will load as expected.