Sakamoto Kenshirou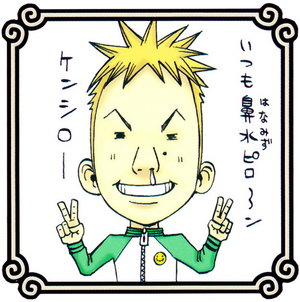 Information
Japanese Name
Sakamoto Kenshirō (坂本憲司郎)
Birthdate
31 May, Kumamoto, Japan
Gender
Male
Occupation
Manga Author
Sakamoto Kenshiro is born on 31 May in Kumamoto, Japan. After graduating from Comprehensive School Human Academy, in 2004 he won the prize for New Artist in Comic BonBon (Kodansha). In 2006 he starts his first serialization, Totsugeki Chicken in Comic BonBon. Which continues for 4 volumes, ending after the magazine stopped publishing, due to declining sales.
In 2008, he creates a oneshot Twinkle Star! for MiChao! (Kodansha) magazine.
After a few months Comic BonBon is replaced by Shonen Rival (Kodansha), where in November 2008, he starts his second serialization – Buster Keel!. The manga continued until 2012 and published a total of 12 volumes.
External Links
Edit
Ad blocker interference detected!
Wikia is a free-to-use site that makes money from advertising. We have a modified experience for viewers using ad blockers

Wikia is not accessible if you've made further modifications. Remove the custom ad blocker rule(s) and the page will load as expected.