Shikyou



Romanji

Shikyou

Debut

Chapter 6

Members

Kurokiri Setsuna, Gyuumaou T-Ross, Jack, Dakki
The Shikyou also known as the Great Evil 4 are the four strongest monsters in the Buster Keel world.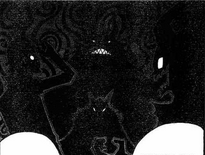 They serve as the primary antagonists of the series.
According to what is known about them so far the Shikyou were probably affilliated, if not started, with the war that happened 60 years prior to the story line known as "The Great 4 Evil Battle" or also known as the Shikyou War. All of them lost the war but apparently are all still alive and well. It seems that each of them has started their very own organizations Kurokiri being Ayakashi and Gyuumaou being Behemoth.
It seems that the goal of the four of them is to start an event known as the "Banquet of the Gods" which can only happen by collecting the 4 Sacred Treasures.